Nusa Penida Island is a haven for explorers and thrill-seekers alike, with many things to do in Nusa Penida. Whether you prefer to explore the island alone or book a Nusa Penida tour, there's no shortage of things to do and see here.
From stunning beaches and crystal-clear waters to majestic cliffs and hidden waterfalls, Nusa Penida Island boasts abundant natural beauty. Take a dip in the ocean, soak up the sun on the beach, or hike through lush forests and rugged terrain – the choice is yours.
For those seeking a bit of adventure, Nusa Penida Island has plenty to offer. Brave the heights and take in panoramic views from the top of towering cliffs, or go diving and explore the island's vibrant marine life. You can also go snorkeling, kayaking, or even try to do spiritual activities.
No matter your interests, a trip to Nusa Penida Island promises to be an exciting and unforgettable experience. So why wait? Book your trip now and prepare for an adventure you'll never forget!
Best Places to Visit in Nusa Penida
Before visiting the island, you should know the places you will visit. Then, you should take note of all the activities you'll be doing there. Here are some recommended activities and things to do in Nusa Penida.
1. Going to Kelingking Beach
Exploring the beauty of Kelingking Beach is one of the best things to do on Nusa Penida. It has an iconic spot that attracts millions of tourists worldwide. Kelingking Beach is famous for its stunning cliff that looks like a T-Rex.
This secluded beach has white sand with crystal blue water. The most recommended spot to see the beauty of this beach is from the top of the cliff. But if you want to descend, you have to be careful. It is because the path is narrow and slippery.
Kelingking beach is a great place to see the sunset because it is situated in the western part of Nusa Penida. Here, you can see the magical view when the sun goes down into the sea.
2. Taking Pictures at Broken Beach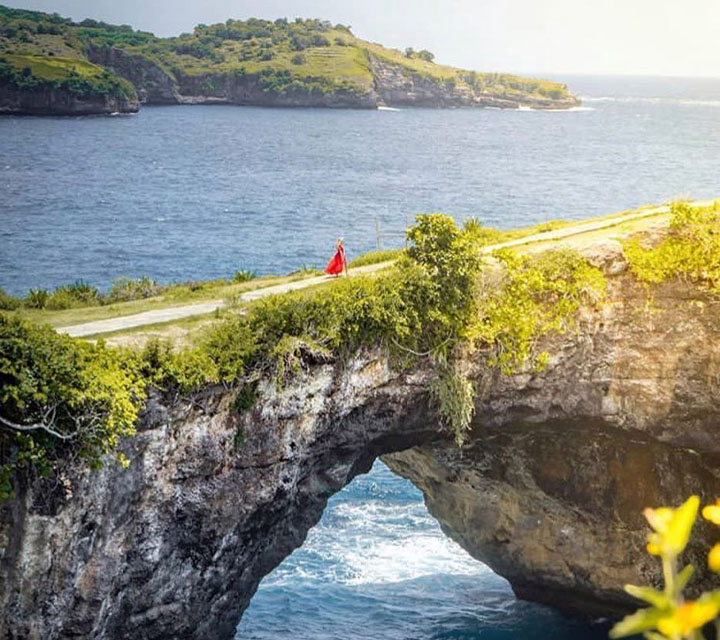 If you are wondering about things to do on Nusa Penida Island, you should capture stunning photos in Broken Beach. Like Kelingking Beach, this beach is also located in the west part of Nusa Penida. The seashore of Broken Beach is captivating.
This tourist destination is popular for its archway on the cliff. It creates an adorable cove. Unfortunately, you are forbidden to go down to its beach. But you can still enjoy jaw-dropping scenery from the edge of the cliff.
3. Swimming in Angel's Billabong
Visiting Angel's Billabong is one of the most recommended things to do in Nusa Penida Bali. This spot offers a natural pool that overlooks the sea. You can see a nice view from several spots. Besides, it will be better if you try to swim in this infinity pool.
The water is clear and refreshing. You should be careful when reaching this natural pool. It is because the rocks around this pool are sharp. Also, the water is quite deep in some areas. Remember not to go to this spot during high tide.
4. Snorkeling With Manta Rays
Are you looking for adventurous marine activities in Nusa Penida? Try snorkeling at Manta Bay. Manta rays are friendly creatures. You will always remember the exciting experience of swimming with them.
At first glance, the size of these majestic creatures can be intimidating. However, it doesn't take long to realize that these gentle giants are humble and harmless. As you swim with them, you'll be amazed at their grace and beauty and soon forget any fears you may have had.
Whether you're an experienced snorkeler or a first-timer, snorkeling in Manta Bay is an adventure you will want to experience. So, grab your gear and prepare for an unforgettable experience with these magnificent creatures.
5. Taking Pictures at Nusa Penida Tree House
Another wonderful spot you should not miss in Nusa Penida is the Tree House or Rumah Pohon. You must include it in the list of what to do in Nusa Penida. This treehouse becomes the best location to capture the stunning view of Nusa Penida's east coast.
From this tree house, you can see wonderful bays which are popular as Thousand Island. Make sure to visit this spot during the low season to avoid long queues.
6. Exploring Crystal Bay
The location of Crystal Bay is located on the west of Nusa Penida Island. The shoreline is full of Coconut trees overlooking the amazing cove. Furthermore, there are plenty of cafes you can visit there.
You can relax on the seashore while enjoying a refreshing coconut under the umbrella. Besides, if you want to do some adventure, you can wear your snorkeling equipment and start exploring the view underwater. Then, you can see beautiful corals and fish.
7. Sunbathing on Diamond Beach
Are you looking for the best things to do in Nusa Penida to relax and enjoy the sunshine? Look no further than Nusa Penida, where sunbathing and swimming are among the most popular activities. And if you're looking for the best place to sunbathe, Diamond Beach is the perfect destination.
Diamond Beach is the epitome of relaxation with its stunning coconut trees, pristine white sand, and crystal-clear water. You'll need to take a ten-minute hike down to the beach to get there, but it's well worth it. And before you make your way down, snap a few pictures on the beach's iconic stairway.
Once you make it down the stairs, you'll be rewarded with a refreshing swim in the calm waters of Diamond Beach. So why wait? Pack your swimsuit, grab your camera, and head to Diamond Beach for fun in the sun!
8. Experience the Spiritual Beauty of Pura Goa Giri Putri 
If you're planning a trip to Nusa Penida and are a fan of cultural tourism, add Pura Goa Giri Putri to your itinerary. This sacred temple is a must-visit destination that showcases the island's unique cultural heritage.
Located in the eastern part of the island, Pura Goa Giri Putri is open to visitors from 7 am to 5 pm every day. Remember that this site is holy, so you must wear a sarong when you visit. Not only is it a sign of respect for the local customs, but it's also a chance to experience traditional Balinese attire.
One of the highlights of this temple is its stunning cave. The 300-meter-long cave is adorned with intricate ornaments that will take your breath away. You'll come across a grand altar in the cave's center as you explore this natural wonder. It's a mesmerizing sight that reflects the deep spirituality of the Balinese people.
Visiting Pura Goa Giri Putri is an experience you will want to experience. It's a chance to immerse yourself in the rich culture of Nusa Penida and witness the island's spiritual beauty. So, add this destination to your travel itinerary and create unforgettable memories.
9. Chilling Out in Beach Club
Are you planning to spend your evening in Nusa Penida? Going to a beach bar is one of the best things to do in Nusa Penida to make your night unforgettable. Nusa Penida has many beach clubs that offer stunning views, delicious food, and cocktails.
The beach clubs in Nusa Penida are the perfect place to have fun with your friends at night. Imagine the sound of the waves, the warm breeze, and the sand between your toes while enjoying great company and refreshing drinks. It's a recipe for an unforgettable night out.
Besides the stunning views and fantastic cocktails, the beach clubs in Nusa Penida also offer various delicious foods. You can enjoy fresh seafood, local delicacies, and international cuisine. The beach bars cater to all tastes, so there's something for everyone.
10. Enjoying Local Food at Nusa Penida Night Market
Discover the culinary delights of Nusa Penida's night market! If you're looking for things to do in the evenings on this beautiful island, why not explore the local food scene at the night market?
From 6 pm to 11 pm, the night market comes alive with an array of mouth-watering dishes that will tantalize your taste buds. Whether you're a fan of spicy or mild meat or vegetarian, there's something for everyone here.
Sample some of the island's most popular dishes, including Nasi Goreng, Mie Goreng, Sate, or Martabak. These local specialties are made with fresh ingredients and cooked perfectly by talented chefs who take pride in their craft.
As you wander through the market, you'll be enveloped by the sights and smells of the food stalls, with the sizzling sounds of the grills and pans adding to the atmosphere. It's a sensory experience that will leave you with unforgettable memories of your time in Nusa Penida.
11. Visiting Paguyangan Waterfall
Things to do in Nusa Penida with tracking while getting an adrenaline rush? The answer is to visit Paguyangan Waterfall! This beautiful place is a hidden and less traveled spot you should notice.
Nestled under a cliff, Paguyangan Waterfall is a sight to behold. The stunning views and peaceful atmosphere make it one of the best things to do in Nusa Penida. Be warned though - to reach this hidden treasure, and you'll have to climb down hundreds of steps. But don't let that deter you, as the journey is worth it.
For those who love trekking, this destination is a must-visit. As you descend to the waterfall, you'll be surrounded by breathtaking views of the lush greenery and shimmering water below. Once you reach the bottom, you will be rewarded with a dip in the cool, clear water.
So, there are the best things to do in Nusa Penida. Are you ready to explore?