Indonesia is an archipelagic country consisting of hundreds of islands and has a lot of amazing natural beauty, especially beaches. With so many islands in Indonesia, there are definitely many beautiful beach tourist destinations.
When we talk about islands with beautiful beaches, what pops up in our minds is certainly the island of Bali.
Bali has many stunning beaches, one of them is Broken Beach. The local people call this beach Pasih Uug which literally means broken. The locals call this beach Pasih Uug or Broken Beach because it is surrounded by cliffs with holes on one side. This uniqueness adds to the beauty of this beach, so you should include it in your vacation list.
Route to the Beach location
Before we discuss the uniqueness of this beach, it would be better if we first know the Broken Beach route. So that you won't be lost if you want to visit the place.
The location of Broken Beach is located on Nusa Penida Island, a small island in Bali which has many beautiful natural destinations. In more detail, this beach is located at Banjar Sumpang Village, Bunga Mekar.
To get to this beach, you can start your trip from the Sanur Bali Pier, leave starting at 7 am. You can take the trip from Sanur by boat with a fare per person between Rp. 100,000 to Rp. 150,000. Estimated travel time is 40 minutes.
The initial destination of Sanur Pier was Banjar Nyuh Port. After you arrive at the port, continue your journey by renting a motorbike or car for your vehicle to Pasih Uug. From there, the road is quite steep, so it's highly recommended not to go over speed for your safety.
The uniqueness of Broken Beach
This beach, which is similar to Playa del Amor in Mexico, is indeed very interesting for anyone who sees it. The uniqueness of this beach can attract foreign tourists, thereby helping the economy of the local population.
Here are 4 uniqueness of Broken Beach that are second to none:
Because it has not been touched by many tourists, the water is so clear and fresh. The clarity of the water is extraordinary so that the marine life in it is clearly visible from the surface.
The various marine biota that are clearly visible from the surface are the main attraction for this Pasih Uug. It's even more interesting if you can see lots of turtles and manta fish from the top of the cliff. You rarely find this unique phenomenon on other beaches.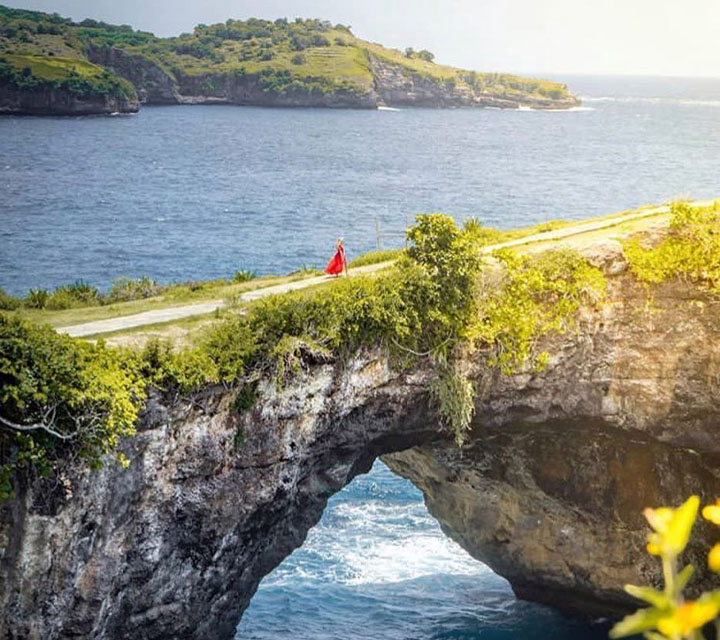 Rarely do you find beach tourism that has large green meadows. The location of Broken Beach which is in the hills makes most of the area surrounded by thick and wide green grass. You can perpetuate in this meadow with your loved ones.
It will be even more beautiful if you bring a drone. Because this place is stretched out and open, surrounded by green grass, it will be amazing when seen from above. If you see tall buildings every day, you will feel satisfied and happy when you see the beach as well as this meadow.
Adrenaline-Challenging Access
Even though it's on the beach, you won't find a wide stretch of white sand running around. Because this beach is surrounded by rocky cliffs that are quite steep. So when you walk around on this extreme beach you have to be careful.
If you are a person who likes challenges, adventure, and is tireless, then the challenge is perfect for you. The journey that you start from Banjar Nyuh Harbor to the beach location is quite challenging. But that will pay off when you see the stunning charm of Broken Beach.
The clarity of the sea water and its calm currents will be a shame if you don't swim. In addition to that, you can see Manta Fish passing by when you swim. Of course you can see the fish clearly because the water is very clear.
Apart from Manta Fish, you will also see cute turtles swimming. When you swim and see these marine life, it's as if you are being greeted by them. So you must capture it with a waterproof camera.
The extraordinary uniqueness of Broken Beach is a magnet for everyone. You rarely find these unique phenomena on other Indonesian beaches. Please visit Pasih Uug with a trusted travel service so that your vacation becomes unforgettable.