Without a doubt, visiting various temples is a necessary component of cultural tourism in Bali. Goa Giri Putri Temple is an amazing temple on Nusa Penida. What is this temple like? Let's investigate. 
History Goa Giri Putri temple
Pura Goa Giri Putri Nusa Penida derives from the words "giri", which refers to a hill or mountain, and "putri", which denotes a woman. 
The princess represents a symbol of divine power according to Hinduism's teachings. Because this holy cave is a spot where Shiva is worshiped as a manifestation of the goddess Giri Putri, who looks out for, defends, and loves people, the name Giri Putri has been chosen as the cave's official name.
So, how to reach the Goa Giri Putri Temple?
You must pass through the opening of a tiny cave to reach the temple. To get to the cave's entrance, however, there are 110 stairs.
The entrance to this cave is only approximately 80 cm wide, making it difficult for an adult to get through. With your guts and tenacity, you will be able to enter it. Then, you must crouch 3 meters long to reach the cave's center.
Location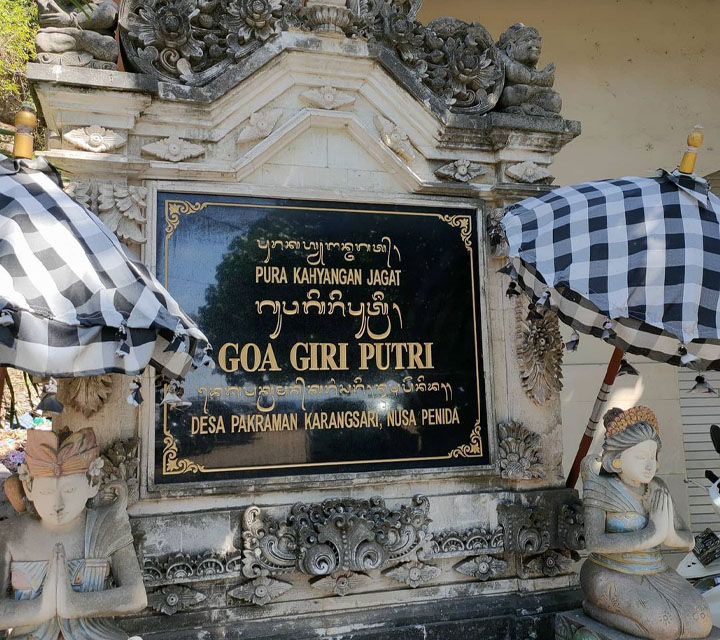 This temple is located in Suana Village, Nusa Penida, approximately 14 minutes' drive from Sampalan Harbor. 
This cave is roughly 310 meters long and is situated 150 meters above sea level. Goa Giri Putri Temple is always crowded with visitors even though it is remote.
The Goa Giri Putri temple is strategically located in the tourist district on the east side of Nusa Penida. It is close to recreational areas and other tourist sites, including the Diamond, Atuh beach attractions, and the Molentang tree house.
This tourist destination is also close to several other well-known destinations, including Broken Beach, Angel's Billabong, Kelingking Beach, and Crystal Bay. 
The Uniqueness of Goa Giri Putri Temple
Your efforts will be rewarded when you locate a broad space that can house up to 5000 people.
Water droplets from the cave's ceiling add to the beauty and uniqueness of this location. 
The cave space is very well organized, including the place of worship. Although the sunlight coming from the cave's end does not fully illuminate the space, the lighting lamps that have been installed inside the cave do so. In this cave, you may also witness stalactites and stalagmites.
Another distinctive feature of this cave is that it contains a spring where the Goa Giri Putri Temple is located. Hindus think that water in motion has innate healing properties. As well as using the spring water to wash, they carried it home to cure ailing members of their families.
What Should You Pay Attention to? 
Keep in mind that this place is a sacred place. So, you must respect the beliefs of the locals and pay attention to these things:
Menstruating women are prohibited from entering this cave.

In addition, you must pay attention to your clothes entering this cave. You must wear a sarong and a shawl.

You must also maintain your attitude and behavior while in this cave.
How to Get to Giri Putri Cave Easily
The fastest and most common method of transportation to reach Nusa Penida island is by speed boat, which can depart from Padang Bai pier, Kusamba, and even Sanur beach pier in Denpasar.
Once at the pier, you can continue your journey to Goa Giri Putri by taking a tour or renting a car.
However, if you take the Nusa Penida Package, you won't have to worry about transportation, accommodation, or even itineraries. That's all the information about Goa Giri Putri Temple. Hopefully, this information will add to your knowledge. Happy traveling.