Planning a holiday in Bali Nusa Penida? Don't miss out on the breathtaking beauty of Seganing Waterfall. Nestled away from the tourist crowds, this hidden gem offers an untouched and serene experience that will leave you in awe.
Escape the beaten path and immerse yourself in nature's finest. Seganing Waterfall might require a bit more effort to reach, but trust us, it's worth every step. The cascading waters surrounded by lush greenery create a picture-perfect scene that will make you want to return again and again.
Add Seganing Waterfall to your Bali itinerary and embark on an unforgettable adventure. Experience the tranquility, capture stunning photos, and create memories that will last a lifetime.
Seganing As One of The Best Waterfalls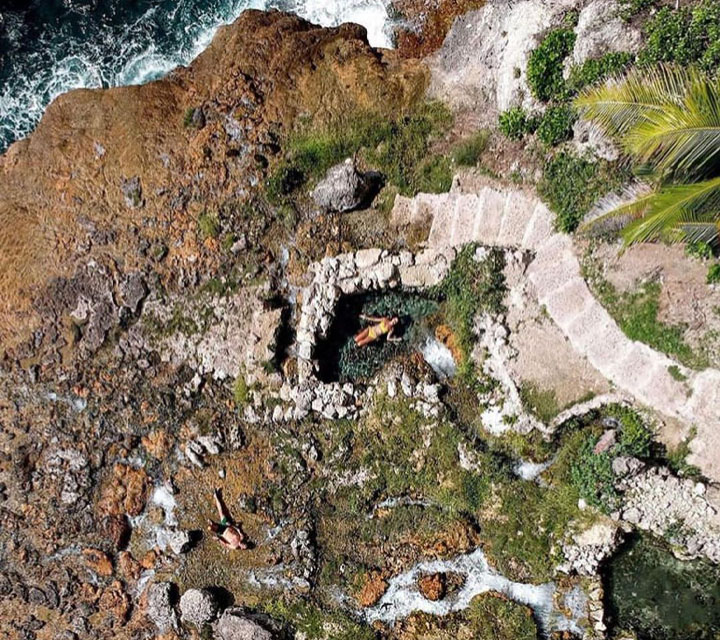 Located on Nusa Penida Island, Bali, lies the captivating Seganing Waterfall-a secret kept behind its remote location. Tucked away from the beaten path, this exquisite cascade offers a mesmerizing spectacle to those intrepid enough to embark on the journey. To bask in its beauty, however, one must invest both time and energy, ensuring a rewarding experience awaits those who dare to seek it.
1. The beauty of Seganing Waterfall
Formerly known as Sebuluh Waterfall, its nomenclature drew inspiration from its arid perch on a barren hill in Sebuluh Village, Nusa Penida. What sets Seganing apart from its counterparts is its distinctive locale.
Unlike other waterfalls ensconced within lush forests, Seganing hides beneath a steep cliff, adorning a dry expanse, with the added allure of being juxtaposed against the azure ocean. The cascade gracefully spills its waters through cliff gaps, merging with the sea below.
2. A Glimpse into Seganing's Charms
Unlike typical waterfalls, Seganing doesn't beckon swimmers to its natural pool. Although not vast, the pool at the waterfall's terminus invites visitors to soak in its refreshing waters, all while relishing a panoramic view of the adjacent sea.
The experience may lack the grandeur of an infinity pool, but Seganing, unlike seasonal waterfalls, consistently offers a steady flow, accompanied by the breathtaking backdrop of the ocean.
3. Fishing in Seganing's Vicinity
More than a mere tourist attraction, Seganing serves as a local hotspot for fishing enthusiasts. Residents frequent the area, casting their lines amidst the waterfall's surroundings. Visitors can partake in this communal activity, casting a line into the waters while their companions luxuriate in the natural pool.
Fishing against the backdrop of the ocean transforms the experience into an unforgettable highlight of any Bali excursion.
4. Visitor Amenities at Seganing Waterfall
To enhance the visitor experience, Seganing Waterfall provides essential facilities. A designated parking area accommodates those arriving by bike or car, while well-constructed stairs facilitate the descent to the waterfall.
Tickets, obtainable from the retribution counter, grant access to the waterfall area. These amenities, thoughtfully provided by the local government, contribute to a comfortable and enjoyable visit. Responsible use of these facilities ensures that all visitors can relish their time at this unique waterfall.
5. Exploring Nearby Attractions
Seganing's charm extends beyond its immediate vicinity, offering proximity to other enchanting destinations. Crystal Bay, Angel Billabong, and Broken Beach beckon nature enthusiasts, providing additional opportunities to revel in Bali's natural wonders.
For a seamless exploration, consider booking accommodation close to these attractions, ensuring convenient access and an immersive experience.
Embark on an odyssey to Seganing, where the allure of a hidden waterfall awaits, promising a distinctive and unforgettable escapade amid Bali's breathtaking landscapes.
Alternatively, you can book a tour package that will take you to many beautiful destinations on the island. Seganing Waterfall is one of the many destinations offered by us. Choose our services that will take you to your favorite destinations. Book now and enjoy your trip more comfortably.